Discover more from Las Vegas Round The Clock
Bringing the latest Las Vegas entertainment and lifestyle news to Las Vegas locals and visitors from around the world.
Over 3,000 subscribers
Vegas Happenings 6/5/23
Stranger Things Store Opening- Plaza Hotel & Casino Debuts Main Street Reimagined Project - Olympia Companies Charitable Foundation Presented $1.6 Million in Donations to 8 Local Charities
Netflix Launches Stranger Things: The Official Store
Avid fans of the NetFlix TV series, Stranger Things will be delighted to know that on Friday, May 26, Netflix opened Stranger Things: The Official Store at Showcase Mall (3785 S Las Vegas Blvd, Suite #102) in Las Vegas for its first long-term residency.
Following the success of Stranger Things: The Official Store that brought the Upside Down to New York City, Los Angeles, Paris, Dallas, Chicago, Miami and Milan, Las Vegas residents and visitors alike now are able to immerse themselves in a world of supernatural mystery, enduring friendships, and 80s nostalgia in a one-of-a-kind celebration of the Stranger Things universe.
Opening in Las Vegas just in time for summer, this groundbreaking retail experience takes fans of the global hit series inside some of its most memorable settings, where they can explore Stranger Things' most iconic locations, interact with friends and foes from Hawkins, get up close to a Demogorgon, take photos inside Joyce's House, shop at the Starcourt Mall, play games at the Palace Arcade, explore Vecna's attic and take home an assortment of specialized merchandise only available at the store including apparel, games, toys, candy and unique accessories in celebration of their love for the NETFLIX TV series.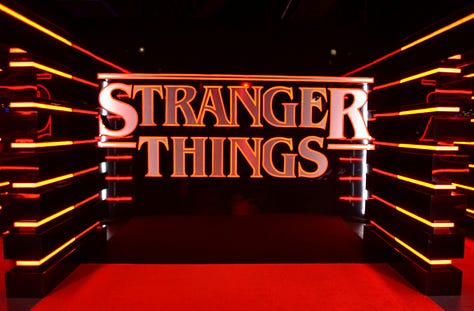 New merchandise collections unique to the Las Vegas store launched for the first time including the Pool Collection with Stranger Things character Billy Hargrove's essential products and a one-of-a-kind Las Vegas capsule collection.
The store is open Monday - Saturday: 10am-9pm and Sunday: 10am-8pm.
---
Plaza Hotel & Casino Debuts Reimagined Main Street Façade and Four New Venues
The Plaza Hotel & Casino held an official ribbon cutting ceremony on June 8 to celebrate the grand opening of its Main Street Reimagination projects that transformed its historic Main Street façade and porte-cochère into a one-of-a-kind destination for cocktails, gaming, and dining with four new venues. The re-imagined venues include Carousel Bar, Pinkbox Doughnuts, the rooftop patio at Oscar's steakhouse, and Brian Christopher Slots at Plaza, downtown's only smokefree and social media friendly gaming space, which will all officially open to the public on Saturday, June 10.
Plaza Hotel & Casino CEO Jonathan Jossel cut the commemorative ribbon at the project's centerpiece Carousel Bar, alongside city of Las Vegas Mayor Carolyn Goodman, former Mayor Oscar Goodman, leading gaming social media influencer Brian Christopher, and Judith Perez Siegel, owner of Pinkbox Doughnuts and Michael Crandall, chief business officer of Pinkbox Doughnuts.
"For more than 50 years, the Plaza has called 1 Main Street home," said Jossel. "Main Street is where Las Vegas got its start, and the Plaza continues to enhance this historic and exciting thoroughfare. Last year, we opened the legendary live music venue Sand Dollar Downtown. Today, we further establish Main Street as a premier downtown destination with the addition of Carousel Bar, Pinkbox Doughnuts, Brian Christopher Slots at Plaza, and a rooftop patio overlooking it all at Oscar's steakhouse."
Jossel thanked city of Las Vegas Mayor Carolyn Goodman and her husband, former Las Vegas Mayor and steakhouse namesake, Oscar Goodman for their continued support of the Plaza and downtown redevelopment. He also recognized Judith Perez Siegel, Michael Crandall, and Brian Christopher for partnering with the Plaza. Jossel added that the Plaza's evolution and improvements, including these four projects, wouldn't be possible without the vision of the property's owner, Poju Zabludowicz, chairman and CEO of Tamares Group.
---
Olympia Companies Charitable Foundation Presented $1.6 Million in Donations to 8 Local Charities
Olympia Companies Charitable Foundation (OCCF) made quite a splash recently when the organization hosted a special Olympia Day of Giving event poolside at the Spa at Southern Highlands Golf Club. During the event, OCCF co-founder Garry Goett and Executive Director Angela Rock presented checks ranging from $110,000 - $310,000 to representatives from eight benefiting charities. These donations are a portion of the more than $1.6 million raised during the recent 23rd annual Governor's Black-Tie event. The funds will help send critically-ill children to summer camp, provide clothing, supplies, and educational opportunities to underserved children, assist families of children diagnosed with cancer, and more.
Representatives from the local charities including; Assistance League of Nevada, Boys and Girls Club of Southern Nevada, Candlelighters, Children's Heart Foundation, Discovery Children's Museum, Nevada Childhood Cancer Foundation, Andson, and Opportunity Village were invited to bring a delegation of kids and families from their respective organizations for a fun-filled morning at The Spa at Southern Highlands featuring a delicious breakfast, poolside activities, a swim party and a celebratory presentation of the checks.
During the uplifting event, each of the eight charities was presented with commemorative oversized checks. More than 150 attendees joined together for photo-ops celebrating the successful, philanthropic endeavors that will improve the quality of life for women and children in Southern Nevada. 
Since 2000, Olympia Companies Southern Highlands Charitable Foundation, (formerly Southern Highlands Charitable Foundation,) founded by Garry Goett and Guy Inzalaco has led the charge to improve the quality of life for women and children in Southern Nevada by donating more than $27 million dollars from its various fundraising events and numerous philanthropic endeavors.
Additional recent and upcoming "happenings" in and around Las Vegas include:
 POTTED POTTER: THE UNAUTHORIZED HARRY POTTER EXPERIENCE - A PARODY BY DAN AND JEFF celebrated its fourth anniversary at THE MAGIC ATTIC INSIDE HORSESHOE LAS VEGAS on Sunday, June 4, 2023.
The current stars of the hit, family-friendly show, James Edwards and Nicholas Charles, were flying high celebrating the anniversary as well as a special Proclamation from Las Vegas Mayor Carolyn Goodman. 
In honor of the four-year milestone and over 1000 performances, Mayor Goodman proclaimed Sunday, June 4, 2023, "POTTED POTTER – The Unauthorized Harry Experience" Day in Las Vegas. The celebration continues throughout the month of June with a special $40 general admission ticket using the code: 4YEARS.
THE 1 OCTOBER MEMORIAL DESIGN TEAM EXHIBIT, featuring five design concepts for a permanent memorial to remember the events of the Route 91 Harvest Music Festival tragedy, opened On Monday, June 5, in the Clark County Government Center Rotunda Gallery. The public is invited to view models of the proposed concepts in-person at the Government Center Monday through Thursday, 7:30 a.m. to 5:30 p.m. daily. The public can also visit the 1 October Memorial's Committee's website at www.ClarkCountyNV.gov/1OctoberMemorial to learn more details about each concept. The names of the participating teams, listed here and on the website alphabetically, are: Aaron Neubert Architects+studioSTIGSGAARD, JCJ Architecture, OLIN, Paul Murdoch Architects and SWA Group.
After nearly 900 shots spanning three days, YouTube stars DUDE PERFECT reclaimed the world record for the "WORLD'S HIGHEST BASKETBALL SHOT" from the SkyPod at The STRAT Hotel, Casino & SkyPod. Dude Perfect member Tyler Toney made the record-breaking shot from the SkyJump platform 855-feet above the Las Vegas Strip on Thursday, April 20.
To celebrate Las Vegas' first professional sports team and reigning WNBA Champions, PATISSERIE at ARIA RESORT & CASINO unveiled a LAS VEGAS ACES CHAMPIONSHIP DISPLAY. The spectacular pastry art creation was unveiled ahead of the team's first regular season home game on Saturday, May 27 against the Los Angeles Sparks. The CHOCOLATE MASTERPIECE includes superstar players Kelsey Plum, A'ja Wilson and Jackie Young; a massive basketball; wood-planked flooring; the iconic Las Vegas skyline; and more, all made from edible ingredients. Conceptualized by Executive Pastry Chef Mathieu Lavallee and the ARIA Pastry team, the handmade art was produced using 100 pounds of chocolate, 100 pounds of fondant and 80 pounds of sugar. From initial creative vision meetings through final installation it took five team members 92 hours to complete.
LIGHTHOUSE ARTSPACE LAS VEGAS, located at The Shops at Crystals (3720 S. Las Vegas Blvd.) has announced a slate of viewings of IMMERSIVE DISNEY ANIMATION for audience members in need of sensory-friendly accommodations. These accommodations include reduced sound volume, reduced capacity, comfortable gallery lighting at all times with no blackouts, sensitivity warnings for potentially agitating content and quiet areas outside the gallery where visitors can take a break from the show. Tickets for sensory friendly viewings of Immersive Disney Animation are priced the same as regular viewings, and are on sale now. Dates and times for sensory friendly viewings of Immersive Disney Animation are: Sunday June 18 – 10 a.m; Saturday July 15 – 4 p.m.; Sunday Aug. 20 – 4 p.m.
"BATTLEBOTS: DESTRUCT-A-THON," the world's first daily robot-combat competition inspired by the TV show, is extending its run now through September due to its growing popularity in Las Vegas. The theater show containing all of the drama, action and destruction of the world-famous TV show features live robot-on-robot carnage, never-before-seen combat robots and celebrity hosts Bil Dwyer and Steve Judkins. Beginning Thursday, June 1, "BATTLEBOTS: DESTRUCT-A-THON" shows, located inside BattleBots Arena (aka Caesars Entertainment Studios)at
4165 Koval Lane behind Horseshoe Casino, take place at 2 p.m. on Saturdays and Sundays and 6 p.m. on Wednesdays, Thursdays and Saturdays.
VIRGIN HOTELS IN LAS VEGAS has announced its participation in LAS VEGAS RESTAURANT WEEK, benefiting THREE SQUARE FOOD BANK. Taking place Monday, June 5 through Friday, June 16 guests are invited to experience the resort's collection of culinary excellence with participating restaurants KASSI BEACH HOUSE, THE KITCHEN AT COMMONS CLUB, NIGHT + MARKET, and ONE STEAKHOUSE. Each restaurant will offer special prix fixe menus, with a portion of proceeds donated to Three Square Food Bank.
Corner Bar Management, the group behind some of Las Vegas' most imaginative destinations, will tap into its internationally-inspired recipes for Las Vegas Restaurant Week. Exclusive and inventive prix fixe menus will be available at PEYOTE, LA MONA ROSA AND PARK ON FREMONT on select dates throughout the week, with a portion of proceeds benefitting Three Square Food Bank. 
In addition to its already stacked lineup of free, live entertainment including its Downtown Rocks Concert Series. FREMONT STREET EXPERIENCE, the six-block entertainment district in downtown Las Vegas, kicked off ELECTRIC VINYL, a brand-new free entertainment on Memorial Day Week, Friday, May 26 with performances by DJ BUZA, DJ ALEX PEACE AND DJ BAD BOY BILL. Taking place on the 3rd Street Stage on select Fridays throughout the summer, the Electric Vinyl series will feature hours of nonstop pop and rock hits remixed with modern, energetic beats. This is the first time Fremont Street Experience will host a dedicated electronic music series.
The upcoming schedule for Electric Vinyl Series includes: Friday, June 9, 10pm – 12am: DJ KONSTANTINA; Friday, June 16; 11pm – 2am: DJ STEPHI K;  Friday, June 23, 10pm – 12am: DJ BLAKE;  Friday, June 30, 11pm – 2am: DJ STEPHI K.  Additional dates will be added to the lineup.
UNCOMMONS, Southwest Las Vegas' new 40-acre modern workplace and stylized mixed-use community at 6880 Helen Toland St., is kicking off summer with FREE-TO ATTEND EVENTS throughout the month of June. The events will aim to foster connection, creativity and community spirit, including live music from local musicians on Fridays and Saturdays and a Juneteenth celebration with live poetry from Las Vegas poets. In celebration of Pride Month and as a proud supporter of the LGBTQIA+ community year-round, UnCommons recently presented a $500 donation to The Trevor Project, the world's largest suicide prevention and crisis intervention organization for LGBTQIA+ young people.
Every Friday and Saturday from 6 to 9 p.m. beginning Friday, June 9, UnCommons will present "SUMMER MELODIES" in The Quad, UnCommons' central courtyard for gathering. This recurring weekend event will offer magical moments inspired by the power of music through performances from local artists. Musical talent will be announced each week on UnCommons' Instagram page. Additionally, on Saturday, June 17 from 7 to 9 p.m., UnCommons will host a Juneteenth celebration with "Poetry and Community" in The Quad. Hosted by Afro-Latina artist Ms. AyeVee, the evening will feature award-winning poets Rodney J. Lee, Petit Monstre and Vanessa Williams, who will take attendees on a beautiful journey through the black experience into the celebration of self and culture.
THE STUDIO AT SAHARA WEST LIBRARY in Las Vegas presents AUDREY BARCIO: SIGHT LINE, a solo painting exhibition surveying the recent evolution of the artist's geometric, abstract visual lexicon. Barcio's paintings merge feminist symbology with the esoteric science of sacred geometry. The title SightLine references the linear structures apparent in the artist's compositions while also hinting at the notions of time, vision, and ancestry that inform the morphology of the work. The FREE exhibit will be on display at Sahara West Library (9600 W. Sahara Avenue) from June 9, 2023 through August 26, 2023. A reception will be held on Thursday, June 15 from 5-7 p.m.
Presented by Opera Las Vegas, audiences will laugh, love, and weep along with Violetta as UNLV FACULTY, ALUMNI & STUDENTS will perform Giuseppe Verdi masterpiece, LA TRAVIATA, at 7:30 p.m. on June 9 and 2 p.m. on June 11 in the JUDY BAYLEY THEATRE, located on the campus of UNLV. Included among its stars are alumna Cecilia Violetta López (Violetta), voice teacher André Chiang (Baron Douphol), and current students Courtney Schwalbe (Flora Bervois), and Chase Gutierrez (Marchese d'Obigny). First responders, military, and seniors are eligible for a discount with promotion code VERDI23.
Known for its over-the-top doughnut creations and store experiences, PINKBOX DOUGHNUTS will celebrate the GRAND OPENING of its first store in downtown Las Vegas at the PLAZA HOTEL & CASINO on Saturday, June 10 from 6 to 9 p.m. At 6 p.m. a ribbon will be cut, and Pinkbox Doughnuts at the Plaza will welcome its first customers to the store through its giant 3D doughnut entry.
The ensuing grand opening celebration's festival atmosphere will take over the Plaza's porte-cochère with a DJ, a doughnut eating contest, giveaways, and photo opportunities with its mascot, Pinky. Three lucky customers who find a "Pink Ticket" in their doughnut will win free doughnuts for a year. Pinkbox Doughnuts will also give away a commemorative grand opening t-shirt free with any purchase (while supplies last). Giveaways will also be available from Pinkbox Doughnuts' professional sports team partners, the Las Vegas Raiders, Vegas Golden Knights, Las Vegas Lights FC, and the Desert Dogs.
PALMS CASINO RESORT announces the return of GLAM as part of the PALMS PRIDE LGBTQ+ initiative. The glitz-filled party will take place on Sunday, June 11th at the legendary rooftop venue, Ghostbar. The event will be hosted by American Idol alumni, singer, and "funny girl", Mikalah Gordon.  Setting the beats on fire will be none other than DJ Lisa Pittman, a master of her craft and a true maestro of music. DJ Lisa will spin a sizzling mix of tracks to keep the crowd moving and grooving all night.
The star-studded lineup of celebrity guests includes Jessica Alves, Michael Carbonaro, Connie Pena, and Doc Phineas, iconic personalities that are not only respected figures in the LGBTQ+ community but also trailblazers who have made significant contributions to the entertainment industry.  In all, there are more than 20 performers from the LGBTQ+ community along with some allies to commemorate JUNE as National Pride Month, including the incredible Hawaiian choreographer and performer Derek Daniels; singing cowboy, Chase Brown; The amazing Levitating Wand master from America's Got Talent, Eurlich "FireChill" Ocampo, Burlesque star Tana the Tattooed Lady; The dancing duo, the DoubleTime Twins; High Energy Drag Queen Aloe Vera; Fashion Designer & Drag Performer Taeya Mimosa; and the GLAM Dancers: Paris Hawkins, Curtis Goodman, Hunter Osmolinski, and Justin Daniel.
GLAM is an inclusive event that welcomes everyone, regardless of their gender identity or sexual orientation. Attendees can expect a night filled with vibrant fashion, exquisite cocktails, and awe-inspiring performances that will leave them craving for more. Doors and DJ at 6 p.m., Red Carpet at 6:00 - 7:00 p.m., Performances begin at 7:30 p.m. Tickets are available for purchase on the Palms website.
The Charlie-Mike Foundation, a locally based foundation established to connect veterans with employment after military service, will host "CAFFEINATE & COLLABORATE" FOR LOCAL VETERANS on Saturday, June 24th from 9 a.m. to 12 p.m. at 2500 Anthem Village Drive, Suite 200. Attendees will enjoy complimentary coffee, donuts and refreshments, while learning how the Charlie-Mike Foundation serves the local veterans' community. This event acts as a networking opportunity for veterans and community partners while also providing insight on resources available for veterans. It will include discussion on VA home loans, tax services, legal services and hiring opportunities. In addition, each veteran will receive one ticket upon attendance which will be entered into a raffle to multiple gift cards. Other local organizations serving veterans are invited to attend and collaborate to address any gaps within the community. 
Rapper, singer, and songwriter FLO RIDA will close out summer with an exciting performance as part of the POOL CONCERT SERIES at M RESORT SPA CASINO on Friday, Sept. 15, 2023. Tickets for Flo Rida, starting at $30 plus taxes and fees, go on sale Friday, June 9 at 10 a.m.
The ladies of FANTASY, the award-winning topless female revue at Luxor Hotel and Casino, will show dads who is number one this Father's Day by giving away a FANTASY-filled gift basket during the 8 p.m. and 10:30 p.m. shows Sunday, June 18. During each of the scintillating shows featuring the powerhouse vocals of headliner Lorena Peril, one lucky guest in the audience will be chosen to receive the Father's Day gift basket. The winners will receive the basket containing FANTASY-branded merchandise including the "2023: The FANTASY Has Legs" calendar, a commemorative poker chip, shot glass as well as a $100 gift certificate to Tender Steakhouse inside Luxor.
THE SUMMERLIN LIBRARY ART GALLERY, located at 1771 Inner Circle Dr. Las Vegas, is hosting the COMMUNITY ARTS ADVOCATES OF NEVADA INAUGURAL JURIED ART EXHIBITION. The theme, "THE LIGHT WITHIN," focuses on the needs of the LBGTQ+ community and will be on display through July 18. The Light Within" exhibition is in support of The Trevor Project and Gender Justice with an intention to help raise awareness of the needs within the LBGTQ+ teen community of Southern Nevada through art.  Las Vegas's top artists created works for the exhibition using various mediums including oil and acrylic paintings, sculptures, photography and more, all supporting the awareness of preventing teen suicide within the LBGTQ community.  The exhibition judge is Susan Schwartz, a Los Angeles-based lawyer and independent curator who also specializes in art law and criminal defense. The exhibition is FREE and open to the public 
SUMMERLIN SOUNDS SUMMER CONCERT SERIES returned TO DOWNTOWN SUMMERLIN on June 7. Weekly festivities will take place on The Lawn every Wednesday, June 7 – July 12. All concerts are free and open to the public. Performance Schedule: June 7 -Empire Records and Ethan Martin; June 14 Moonshiners and Jase Naron; June 21 -Radical West and Ilan Dvir-Djerassi; June 28 -Million Dollar Band and Richard Mann; July 5 -Lyte Bryte Band and Justin Centeno; July 12 -Jeremy Cornwell and Adena Sampson. The first performance will take the stage at 6 p.m. with an acoustic act, followed by the first band set at 7 p.m. and a second set at 8:30 p.m. Families are encouraged to bring blankets and enjoy an evening outdoors.
Delivering on its mission of filling the community with intentional LIVE music and uncommon performances, THE BEVERLY THEATER, located on 6th Street and Bonneville in Downtown Las Vegas, will present NOLA-based swamp funk phenoms THE ICEMAN SPECIAL for a one-night-only performance in Las Vegas on Friday, June 30. Doors open at 7 p.m.; tickets are just $10 and are now available.
Station Casinos will light up the sky once again with spectacular FIREWORKS by Grucci displays at RED ROCK CASINO RESORT & SPA AND GREEN VALLEY RANCH RESORT SPA & CASINO this 4th of July. The two local favorites will be the ultimate Independence Day firework destinations with viewing parties from the resorts' pool decks, cabana packages, and social media live streams for those that cannot attend in person. 
Each property will offer unique activations to celebrate the holiday.
●     Red Rock Casino Resort & Spa
Fireworks Viewing Party: Guests can enjoy an evening under the sparkling sky at Red Rock's Sandbar pool for a front row view of the fireworks. Doors open at 7:30 p.m. and the show will begin at 9 p.m. Guests are welcome to purchase tickets for the event at the gift shop starting at $10 for guests 2-11 years of age and $35 for guests 12 and up – admission included complimentary light up necklaces. Guests can enjoy beverages and pizza from Side Piece for purchase.

T-Bones Chophouse will offer live music on the patio from 6 p.m. to 9 p.m. on July 4.
●     Green Valley Ranch Resort Spa & Casino, in partnership with City of Henderson:
Fireworks Viewing Party: Guests can enjoy a prime view of the firework show from the resort's Backyard area across the main pool, amphitheater, the pond, and terrace. Doors open at 7:30 p.m. and the firework show will begin at 9 p.m. Guests are welcome to purchase tickets for the event starting Tuesday, June 20 through Tuesday, July 4 at the Casino Gift Shop or the Essentials Gift Shop. Pricing begins at $35 for guests 12 and up and $10 for children ages 2-11. Adding to the experience, guests will be provided with complimentary light-up necklaces and are welcome to enjoy frozen treats, snacks, and beverages for purchase.
Renowned ukulele virtuoso and composer JAKE SHIMABUKURO is returning to Las Vegas for a special performance at CHROME SHOWROOM AT SANTA FE STATION on Friday, July 07, 2023 at 8 p.m. Tickets start at $42.50 plus applicable fees.
TWO MAN RIOT, the hard-hitting, rock 'n roll band led by singer, songwriter, and drummer Franky Perez and guitarist Stacey Gearing, has announced the re-release of their eponymous debut album, Two Man Riot, a testament to the power of true friendship and the struggles of addiction and growing up in the "Sin City" of Las Vegas. The album will be available for purchase and streaming for the first time since its original 2005 release, beginning Friday, July 8, 2023. A special ALBUM RELEASE PARTY featuring Perez and Gearing's first performance of the album in more than two decades, will be held Saturday, July 8, 2023 at 10 p.m. inside the iconic SAND DOLLAR DOWNTOWN AT PLAZA HOTEL & CASINO in Downtown Las Vegas. The date will also mark the special introduction of Sean Gearing, Stacey's brother, who will play rhythm guitar in the band. All proceeds from Two Man Riot merchandise sold during the album release party will be donated directly to local drug and alcohol recovery programs throughout Las Vegas.
TAKING BACK SUNDAY AND TEDDY SWIMS have been added to the already stacked DOWNTOWN ROCK FREE CONCERT SERIES lineup at Fremont Street Experience. Taking Back Sunday, who have evolved from a key player in the early 2000s emo scene to a genre-defying rock band, will perform on Saturday, August 19. Teddy Swims, a powerhouse vocalist and pop artist who blends genres from pop to soul, hip-hop, and R&B will perform on Saturday, Oct. 21.
Following sold-out spring shows, Award-winning artist, RICK SPRINGFIELD returns to THE STRAT THEATER for back-to-back performances on Friday, Nov. 10 and Saturday, Nov. 11. The shows will begin at 8 p.m. with doors opening at 7 p.m. Tickets will go on sale starting Thursday, June 8 on The STRAT's website.
GRAMMY Award and Emmy Award-nominated comedian Bill Burr has announced his return to Dolby Live at Park MGM in Las Vegas Friday, Nov. 17. The show is scheduled to begin at 10 p.m. Tickets go on sale to the general public Friday, June 9 at 10 a.m. PT. Members of MGM Rewards, MGM Resorts International's loyalty rewards program, will receive access to a presale beginning Wednesday, June 7 at 10 a.m. PT. All presales end Thursday, June 8 at 11:59 p.m. PT.
Additional recent and upcoming openings include:
EDGEWATER CASINO RESORT, located at 2020 S. Casino Dr., in Laughlin opened a new 11,800-square-foot STATE OF THE ART NEW BINGO ROOM on Friday, June 2. The new bingo space offers high stakes bingo games, an expanded prize pool, cross-over promotions and linked coverall multi-location jackpots with other Golden Entertainment, Inc. properties.
A brand-new venue is coming this summer to Historic Commercial Center: The COMPOSERS ROOM SHOWLOUNGE & RESTAURANT. As the most recent project by Pompey Entertainment's Damian Costa and Nick Cordaro, the venue will bring classic Las Vegas entertainment back in a big way. Offering a menu of memorable food and upscale cocktails, The Composers Room will present musical performances from today's artists in an atmosphere that calls to mind the style and elegance of the past. 
 Las Vegas-based entrepreneur Dina Mitchell has announced the upcoming launch of POWERSOUL CAFE™, the world's first certified gluten-free fast-food restaurant chain. The new brand's flagship location along with two new additional sites in the Las Vegas valley are set open fall 2023. The healthy fast food and smoothie chain's flagship location will be located at W. Warm Springs Rd. and S. Cimarron Rd. at Tarkanian Plaza. Additional sites the intersection of S. Valley View Blvd. and W. Spring Mountain Rd., with another site located in Henderson off E. Lake Mead Pkwy. at the Monument at Calico Ridge. Additional locations have been identified, with lease negotiations underway.
---
Closings:
FLEUR at Mandalay Bay will close permanently on June 30. The venue will transition into a new food and beverage concept with an anticipated opening this winter.  
LILY BAR & LOUNGE will close permanently, effective Sunday, July 9, 2023. The venue will transition into a new concept with an anticipated opening this winter. 
---
Celebrity Sightings:
Thursday, June 8…
Blogger/media personality, PEREZ HILTON was spotted at the VIP Grand Opening Party for Netflix's Stranger Things: The Official Store on Las Vegas Blvd.
Saturday, May 27…
Actor, producer and businessman MARK WAHLBERG was spotted at Circa Resort & Casino property's Circa Bar, the Fremont Street Experience hot spot in downtown Las Vegas. A co-owner of Flecha Azul Tequila, Wahlberg worked as an honorary Circa bartender and served up samplings to the Memorial Day weekend crowds on Fremont Street Experience.
Sunday, May 21…
After two viral appearances under the neon lights at Las Vegas Ballpark, Tik Tok-famous baseball team, THE SAVANNAH BANANAS attended a performance of Mad Apple by Cirque du Soleil® at New York-New York Hotel & Casino.